On the last night in November, the smell of mint hot chocolate wafts through downtown Durham, and the distant ringing of bells carries on the nippy night wind. Bundled in red and green hats, scarves, and sweaters, people make their way to the American Tobacco Campus, ready to celebrate the start of the holiday season with a Christmas tree lighting event.
The crowd enters under a giant wreath adorned with gold ribbon, walking past topiaries of Rudolph the red-nosed reindeer and Frosty the snowman and under strings of Edison lights. As the crowd approaches the Lucky Strike water tower, Girl Scouts dressed as gingerbread men hand out light-up wands, and offer a reminder: "Don't turn them on until the lighting ceremony begins!"
People and dogs begin to gather in the darkness underneath the water tower, lit only by a fleet of candles arranged in a circle on the ground.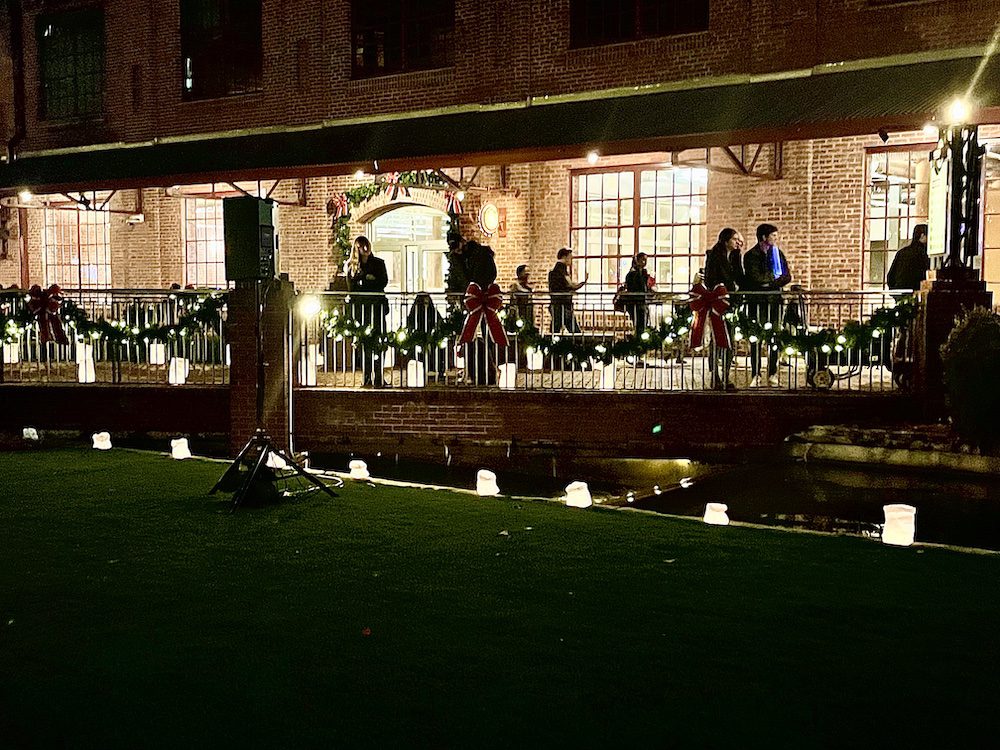 As the clock strikes six, Santa and Mrs. Claus make their way to the front. Santa shouts "Merry Christmas to all!" and as if by magic, the campus lights up with row upon row of Christmas trees crowned with stars and dressed with multicolored LED lights–what organizers call the Christmas tree garden. One by one, people in the crowd switch on their light wands—illuminating the festivities—and begin to cheer.
Then come the holiday performers. First up, aspiring ballerinas dressed in matching pink tutus from the Barriskill Dance Theatre School perform the Dance of the Sugar Plum Fairy. Then the Walltown Theater Group offers an adaptation of a scene from the Christmas movie "Elf." Finally, the Durham's Children's Choir, dressed in matching Santa hats, treats the crowd to "I'll Be Home For Christmas." 
Young girls scurry to meet the ice queen and the Christmas queen. Young boys pile on top of Wool E. Bull, the Durham Bulls baseball team mascot, dressed in a bright blue Santa suit. 
A line of people and dogs dressed in outrageous holiday sweaters covered in gold and silver tinsel, too much embroidery, and a llama or two forms in front of the food tent, which offers fresh apple cider, cinnamon rolls, pumpkin buns and sugar cookies in the shape of polar bears. 
While some people stock up on free yo-yos and candy canes from a sponsor tent, others watch local artist Lisa Gaither paint a larger-than-life holiday mural of a bull in an elf suit. More stop to wave at performing acrobats from Imagine Circus with candy-cane striped hula hoops and red poinsettias braided through their hair, en route to a pop-up Christmas Shoppe full of holiday wares.
People hold their pecan praline lattés close as the temperature drops, wrapping scarves around their children and dogs and huddling close to keep warm. 
As the crowd disperses, the campus fills with a cacophony of out-of-tune renditions of "All I Want For Christmas is You," "Jingle Bell Rock," and "Santa Claus is Coming to Town." One child stops in her tracks and looks through a building's window, eyes wide as Santa winks at her.

"He's real, Mommy, I knew it!" she exclaims. "I can't wait for him to bring me a purple Barbie bicycle."
The girl leans closer, palms against the window pane. Then her mother gathers up the child and heads back into the December chill. 
Above: Photos of the American Tobacco Campus by Gwyneth Bernier — The 9th Street Journal