Not so long ago, a million-dollar home sale in Durham was rarer than a blizzard in the Bull City. No more.
In 2010, just one single-family home in all of Durham County sold for more than $1 million. In 2022, 61 homes sold for seven figures. 
The 9th Street Journal analyzed home sales data from the Durham County Tax Administration from 2010 through the first half of 2023. Even after adjusting for inflation, the increase in seven-figure sales is significant: Between 2010 and 2022, the last full year for which data is available, the number of homes that sold for at least $1 million in today's dollars grew from 15 to 84. 
Viewed in terms of percentages, the rise is even steeper: Between 2010 and the first half of 2023, the percent of Durham homes that sold for at least $1 million increased seven-fold. 
Peter Skillern, CEO of the North Carolina-based nonprofit Reinvestment Partners, has witnessed the transformation of Durham's housing market.
"With the advent of billions of dollars moving into the Durham real estate market, and the incredible explosive growth, central city neighborhoods have transformed over the past 10 years," he says. "There are million-dollar homes being built and sold where once you could buy property for less than $20,000." 
Click to view an interactive version of this graph.
Condominium sales – while a minority of total Durham home sales – made a big contribution to the rise in seven-figure sales.
The first seven-figure condo sale in Durham County took place in 2015. That single sale represented less than one percent of all condo sales for the year. In the first half of 2023, nearly 10 percent of condominiums sold in Durham went for $1 million or more –– a more than ten-fold increase.  
After adjusting for inflation, the pattern persists. In 2012, less than one percent of Durham condo units sold for $1 million in today's dollars. In just the first half of 2023, that number was 10 times higher. 
"If you're buying a downtown condo in Durham, that's about as expensive housing as you can find anywhere in the Triangle, per square foot," says Jeff Lyons, a realtor at Inhabit Real Estate.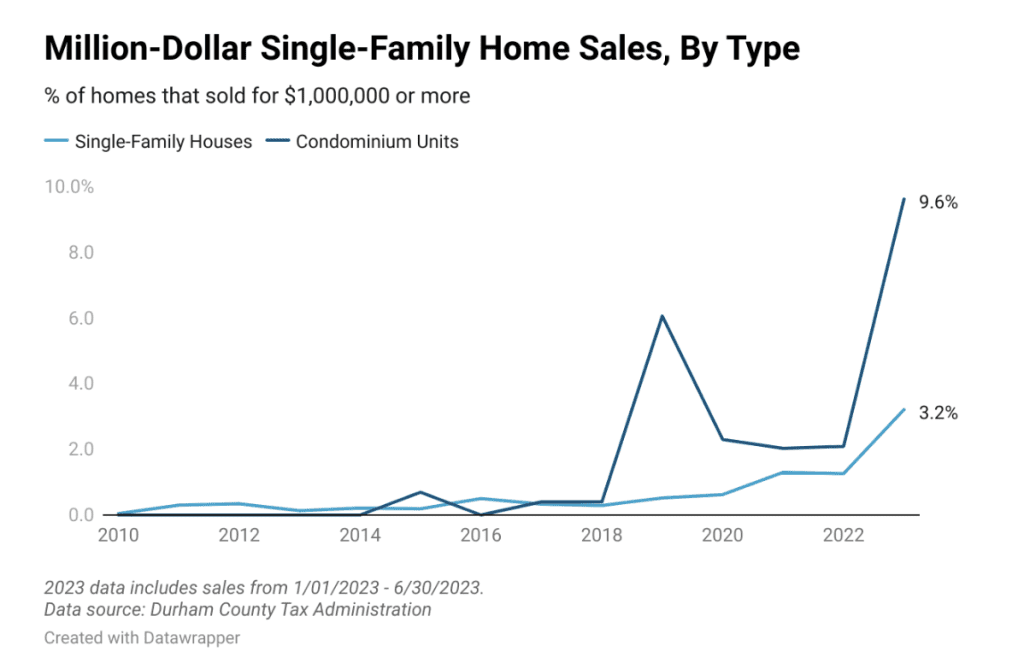 Click to view an interactive version of this graph.
Durham home prices across all categories have increased steadily in the past decade. In the first half of this year, half of Durham County homes sold for over $400,000 — more than double the median price a decade ago. 
Luxury sales are still the minority of all home sales in the county. But they have accelerated even faster than overall home sales in Durham. 
Click to view an interactive version of this graph.
Realtors and policy activists say they have seen the starkest transformation in downtown Durham, where several large condominium developments opened in recent years. One City Center, a 28-story high-rise downtown completed in 2018, sold 12 units for more than $1 million in 2019. The Bartlett, a seven-story condominium completed in 2019, added more million-dollar sales that year. 
More luxury high-rises are on the way. 
The Novus, a 27-story development at 404 W. Main Street, is slated to be completed in 2024. It is being developed by Austin Lawrence Partners––a real estate developer based in Durham and in Aspen, Colorado––the same company that developed One City Center. The median list price for a unit in The Novus is over $1.7 million, and a three-bedroom condo lists for over $4 million. 
Lyons has watched downtown Durham's transformation in the nearly 25 years since he moved the Triangle, as more restaurants opened, along with tourist attractions like the Durham Performing Arts Center.
"Once upon a time, if you wanted to have a big grand night out… you go to Raleigh," he says. "Now, you can have a staycation in Durham."
Some Durham realtors have mixed feelings about the pace at which new condominiums are being developed. Sudi Swirles, Durham realtor and co-founder of Peak Swirles & Cavallito Properties, believes that developers downtown are "doing a real disservice to the community" by replacing historic buildings and green space with high-rise condominiums. She also worries about the effect on local businesses.
"You can't afford to live downtown unless you're making serious money," she says. "I sure hope that [these developers] aren't going to end up running out and pricing out all these small businesses that are … what makes downtown interesting." 
Click to view an interactive version of this map.
One factor driving up area home prices is the entrance of Fortune 500 companies such as Apple, Meta, and Google, which has a large enough Bull City presence that it now has its name on the side of a downtown office building. Apple recently announced plans to hire 3,000 locally at expected average salaries of $187,000 –– more than twice the median household income in Durham County.
However Adrian Brown, a realtor and partner at Inhabit Real Estate, says he thinks high-end units downtown often attract older people. Sometimes, Brown says, buyers have properties elsewhere. "So, [this condo] could be a second home," he says. "But, with the intention of it eventually being a full-time home."
"I get the impression, at least from my experience, that they're more older people buying them –– people here who want to be closer to their kids who live here," he says.
Some clients, he says, are drawn to the convenience and amenities of downtown Durham's condominium high-rises. "They're basically just wanting a no-upkeep, turnkey sort of lifestyle––lock it and leave it," he says.
Brown recently helped a client from Florida purchase a townhouse unit. 
"She was thinking she wanted a house, and I showed her a great condo," he says. "She wanted that very easy, low-maintenance kind of life." 
Skillern says buyers' tastes, too, are changing. A wealthy buyer might have previously preferred a neighborhood that allowed them to "isolate" in neighborhoods with "people who look like [them], share [their] values," he says.
While those neighborhoods are still in demand, Skillern says he has seen recent growth in neighborhoods located more centrally to downtown Durham.
"As opposed to getting a big house with a big lawn on an exclusive golf course, [wealthy buyers are] getting a home that's on Roxboro Street,"  he says.
Many of the wealthy buyers Lyons sees have been from out of state. His first out-of-state client, around five years ago, was a buyer from Pennsylvania, whose budget for a "middle-of-the-road" house in Durham exceeded $600,000. 
The couple had moved to Durham for a medical provider job at Duke University. Lyons helped them purchase a "lovely, old farm-style house" in Trinity Park, a neighborhood near downtown Durham. 
"I remember them saying that they didn't want to spend much on a house," Lyons says. "The scale of affordability is just different for people who come from other places." 
Since then, he has served clients from New York, Washington, and Massachusetts, among others, whose budgets have shifted increasingly upward.
For clients who come from states with higher costs, Durham still seems relatively affordable.
"To be able to buy a brand new house for $700,000 in North Carolina, with everything they wanted, and three times bigger than the place they're living in now––that's incredibly attractive," Lyons says.  
Brown agrees that out-of-state buyers are often unfazed by sticker shock that locals may experience. 
"They just have more resources to throw at a house," Brown says. "They were coming from an area where they'd go, '$1.5 million for this house [in Durham]? You're kidding. This would be like, $5 million, where I'm coming from.'"
Brown worked with a buyer to purchase a condo unit downtown this past winter. The clients, who were older but still working, purchased a $1.5 million condo unit in a high-rise where they had previously been renting. They saw downtown Durham real estate as a good investment opportunity –– better than the stock market. 
"They just thought, 'Why don't we just buy one [unit] and put our money to good use?'" he says. "They just wanted to put their money into something that would appreciate." 
Lyons' most recent million-dollar client was a couple around 30 years old, from New York. 
The couple, who graduated from Duke, lived and worked in New York City and owned an apartment there. They approached Lyons for help finding a house in Durham. 
"They would come down here from time to time, and [thought] it'd be nice to have a place to stay here," he says. 
They bought a house in a Durham neighborhood, where they plan to stay when they are in town. They plan to convert it to a short-term rental in the months when they aren't here, Lyons says, while they consider eventually moving to Durham full-time. 
"As far as I can tell, they can very easily afford to do what they were trying to do," he says.
The increase in demand for homes in Durham has turned the housing market into a sellers' market, says Lyons.
And in that market, wealthy, out-of-town buyers often have an advantage over local buyers. Not only can wealthier buyers outbid others, they can also offer a higher due diligence fee––a sum the buyer pays in exchange for the seller removing the home from the market.
Swirles says many wealthy buyers from out-of-state are also less affected by high interest rates. 
"Many people are coming from areas like New York, Boston, Philadelphia, and California, with a lot of cash in their pocket," she says. "They're able to pay cash, and interest rates don't affect them."
As a result, some local buyers have trouble finding homes in Durham they can afford to buy.
"I think what's really hard is the people trying to move locally, going from a $500,000 house to a $1 million house," Brown says. "That's been a lot harder, locally. I don't see that as much."
Lyons says he now encourages local buyers with lower budgets to look outside Durham's central neighborhoods –— either further out from the center of town or in a neighboring county. 
"Folks start their search thinking that they're going to be able to find a house in a walkable neighborhood in the center of Durham," he says.. "The problem with that, is that happens to be some of the most expensive real estate in all of Durham."
Skillern and the nonprofit he leads, Reinvestment Partners, have been working to maintain Durham's relative affordability despite the transformation the city has undergone.
"The gap of affordability is bigger than it's ever been," Skillern says. "There's a tremendous need for us to continue to advocate and produce permanent affordable housing for a range of needs."
Previously, Skillern's nonprofit was able to buy property for community use relatively cheaply. "The dynamic is a bit different now," he says, "because of this investment that's now driving multibillion-dollar apartments in central city neighborhoods that, at one time, nobody wants to live in."
With a subdivision of million-dollar homes currently being built in Chatham County, and a recent $7-million home listing in Raleigh, the luxury market's growth is affecting the entire Triangle.
Despite rising interest rates and housing slowdowns elsewhere, neither Swirles nor Lyons believes the boom in Durham's high-end housing sales is slowing. 
Swirles works mostly in higher-end neighborhoods in Durham. In the weekly sales meetings she attends with other realtors, Swirles says, they often discuss Durham's rising home prices.
"No one really sees the prices flattening too much in the markets that we personally work in." 
Above: Photo by Maddie Wray — The 9th Street Journal. Graphics and interactive map by Lauren Pehlivanian — The 9th Street Journal